Description
Are you a worm farmer and you want to step it up to produce more worm castings or even to grow more worms to sell?
Then you need to be a member in the Worm Farming Alliance (WFA)
Monthly paid subscription so you are NOT locked into a yearly contract.
Membership will get you access to some of the best minds out there for producing high quality vermicompost and also help you to grow your business with worm farming.
I am a official affiliate (every one who is a member and ha a website can be an affiliate) and I do earn a very small percentage if you click on my link and I would appreciate the business.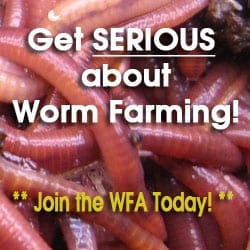 Read more about the WFA here:   https://www.wormfarmingalliance.com/